Kontaktujte nás
Telefón
Slovensko
Kontaktný formulár
Tešíme sa na Vaše otázky.
> Kontakt
24.11.2021
For Festool cordless drills: Made-to-measure production of a captive PEM® screw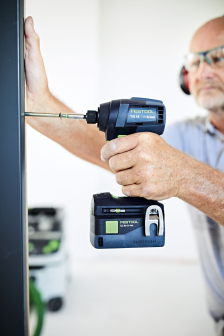 "It works. We will soon be using the captive screw from PEM® in many of our drill / drivers, "says Peter Seiler, convinced of the solution.

When solving a fastening technology problem, the Team Leader Product Development in the "Drilling and Screwing" division at Festool GmbH trusted our experts - with a custom-made variant of the captive (variant) screw, all requirements were ultimately met.

But first things first: Festool wanted a holder for a new cordless screwdriver that would enable the craftsman on the construction site to hang the tool on the belt in order to e.g. to have both hands free when working on the roof.

The retaining bracket can interfere with other work, so that it should be easy to dismantle. The problem with this is that the screw that secures the bracket must not be lost.
Two challenges: special lengths and stainless steel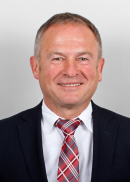 When the responsible designer Benjamin Allgeier discussed the task with Lorenz Scholl, our Expert Sales Force, they quickly thought about the captive screws from PEM®, only: The two standard lengths of 6 and 10 millimeters were too short or too long - only those the special length of 7.2 millimeters ensured that the bracket was securely in place and that the screw would not touch the screwdriver's battery pack.
According to Lorenz Scholl, the second challenge was that Festool uses stainless steel for its bracket, whereas the captive screw from PEM ® is primarily designed for the "softer" aluminum and steel:

"We have therefore carried out various tests on ourselves with regard to sprains and tapering of the receiving hole for the screw. The focus was, among other things, on ensuring that the screw cannot tear out. "

The construction frame-optimized solution: The screw with a special length of 7.2 millimeters is screwed into a brass thread set that is pressed into the plastic housing of the screwdriver.
The "challenge of harder stainless steel" was mastered with a special ring die and the special head shape of the screw, which was used to "make the material flow and thus compress the receiving hole in the bracket so that the screw can move radially and axially without falling out." Lorenz Scholl explains the result, which is very convenient for Festool and thus for the craftsman: "The bracket can be assembled and disassembled - without losing the screw."


PEM® standard portfolio
As flexible as we are when it comes to special solutions for our customers - we also have a broad portfolio of high-quality PEM® self-clinching fasteners in our range. We advise you quickly, competently and free of charge.

Further information can be found on our brand page under the following link.

> to PEM® Brand page