Kontaktujte nás
Telefón
Slovensko
+421911102510
Kontaktný formulár
Tešíme sa na Vaše otázky.
> Kontakt
16.12.2019
PEM ReelFast thread carriers SMTSO and SMTSOB: The fastening solutions for printed circuit boards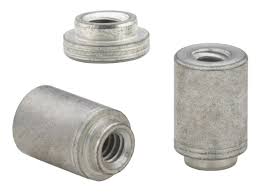 If conventional thread carriers such as nuts or spacers are used as the basis for the assembly of printed circuit boards, this usually has to be done in several steps. Not so with the SMT-capable PEM ReelFast fasteners from KVT-Fastening: thanks to their clever functional principle, printed circuit boards can be equipped with all the necessary connecting elements later in just one work step. This significantly shortens the manufacturing time and avoids assembly errors. The result is a higher degree of automation and more process reliability in production.
The extensive range includes PEM type SMTSO and SMTSOB thread carriers. With both fasteners there is no need for an external work step to attach the fastening points. This leads to significant time and cost savings while at the same time increasing process reliability. While the fasteners type SMTSO are made of tinned steel, the PEM thread carriers type SMTSOB are made of brass and are therefore ideal for applications that require electrical and mechanical fastening points.

PEM ReelFast connectors are delivered in taped form - ideal for automated PCB assembly! They are available with or without a glue point. When used by means of soldering, they can be processed in both plated-through and non-plated holes. The risk of damage to the printed circuit board is excluded with this procedure.


Advantages of the PEM ReelFast fasteners type SMTSO and SMTSOB at a glance:
Available in steel tinned (type SMTSO) and brass (type SMTSOB)
Fasteners can be fed automatically
No external work step required to attach fastening points (e.g. press-in process)
No risk of PCB destruction (danger when pressed in)
Labor cost reduction
Time saving
Process security